Padkick Online
Padkick is a multiplayer game which you can play with gamers all over the world. You steer a circle as a gamer and you have to try to shoot the ball into the opponent's goal.
You can either play one-on-one or with a teammate in a team of two. Invite your friends to game together or create an unbeatable duo against gamers from all over the world.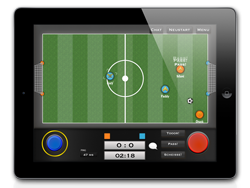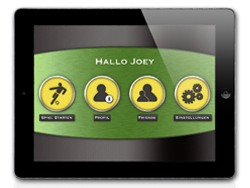 Due to the integrated player statistic you can compete with the other gamers and the better you play, the higher you rise in the ranking. For every ball possession, for every shot, for every gained goal and also for the goals of a teammate you get points and your ranking improves.
Watch a demo-video of Padkick being played on:
http://www.padkick.com
If don't want to join in a game, you can start your own game and play against friends in a password-protected game.
With the ingame chat, you can fret on your opponents or boast about that awesome goal you just scored. The quick-chat allows you to send messages to all the players from within the game (like "Awww yeah!" or "Gooooooooal!")
And now, happy gaming!
More Apps
Anonymous+Confessions

Have+you+been+bad+and+committed+a+sin%3F%0D%0AAngel+and+Devil+sit+on+your+shoulder+and+you+just+have+to+confess+your+sins%3F%0D%0A%0D%0AUse+Anonymous+Confessions+to+clear+your+guilty+conscience.+This+app+lets+you+purge+the+burden+of+a+guilty+conscience+by+anonymously+submitting+sins+and+having+them+rated+by+others.%0D%0A%0D%0AAnd+who+knows%2C+maybe+your+sins+aren%27t+that+bad%3F+Maybe+there+are+much+worse+out+there... ...
Bike+Repair+Tutorials

Use+your+bike+a+lot%2C+do+you%3F+%0D%0AWell%2C+then+this+app+will+be+your+wonderful+new+companion.+%0D%0A%0D%0AYour+brakes+are+loose+and+you+don%27t+know+how+to+fix+them%3F+%0D%0AYour+chain+is+stuck+or+jumps+out+every+couple+of+feet%3F+%0D%0A%0D%0AThat%27s+no+problem+for+you+now.+With+the+Bike+Repair+app%2C+you+can+repair+your+bicycle+in+no+time.+%0D%0AStep+by+step%2C+this+app+explains+how+to+fix+your+bike.+%0D%0A%0D%0AWhether+it%27s+your+chain%2C+or+your+brakes+or+just+a+flat+tire%2C+you%27ll+have+no+problem+with+any+of+these+from+now+on. ...